_____________________________

Student Comments....

I always say that learning from Jeanne Rose is an opportunity not to be missed. This was my second class with her, and this one held up to my high expectations. She was there to teach, and that's what she did, mentioning many facts that are in her Aromatic and Herbal Studies Courses. She began with hydrosols, essential oils and the art of distillation, and then answered some questions. There were students at every level. Which worked fine, because the informal class was geared to everyone's needs.
- by Sharon Houghton of SharAmbrosia, PA
Click here to view the whole article:
Jeanne Rose Visits PA
_____________________________
Many alternative healers only use dried herbs, and do not recognize the herbs in their natural forms. Aromatherapy is foreign to many of them. I now fully understand who you are and how you have blessed your students with your knowledge and experience. I truly thank you.
-- Talibah. 3-10-07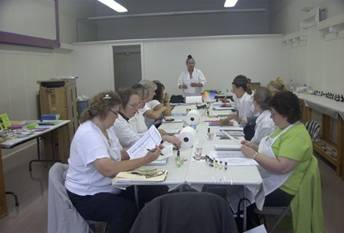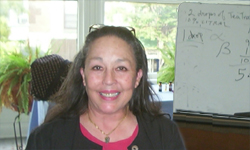 From Aromatherapy Certification III
Class held in October of 2003 in PA
Music feeds the sense of Hearing
Art feeds the sense of Sight
Scents feed the sense of Smell
Food feeds the sense of Taste
Soft skin feeds the sense of Touch
Emotion feeds the sense of Feeling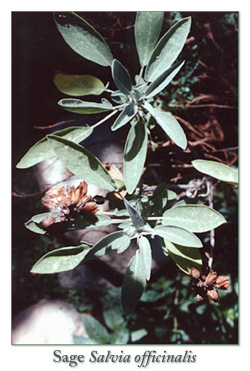 For any classes write Jeanne Rose
219 Carl St. San Francisco, CA 94117
Ph 415-564-6785 or e-mail aromaticplant@yahoo.com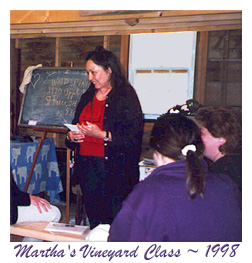 Music feeds the sense of Hearing.
Art feeds the sense of Sight.
Scents feed the sense of Smell.
Food feeds the sense of Taste.
Soft skin feeds the sense of Touch.
Emotion feeds the sense of Feeling.
---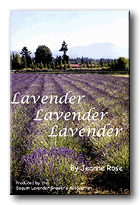 Lavender, Lavender, Lavender
A Booklet by Jeanne Rose
$17.95


---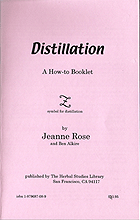 Distillation -
A How-to Booklet
by Jeanne Rose
$23.95
for more information (415) 564-6785


---
---
NOW AVAILABLE!!
Calendula infused oil is available again. Made from fresh Calendula flowers and fine olive oil. An authentic perfumery carrier as well as emollient and therapeutic. $90/quart + shipping and handling. 415-564-6785.
Schedule of Class, Seminars and Events

Each class is valid for 15 CE from ABMP and
towards Practitioner Certification.

Aromatherapy, Herbs & Distillation Classes with Jeanne Rose
Enroll Now at 415-564-6785 or email info@jeannerose.com
• Enrollments limited •

---

Sign up Now!! – Only 8-10 students per class with personalized instruction and new books as part of the class. The classes are filling up - So jump on board and sign up for the Blending, Natural Botanical Perfumery, SPA and Certification Classes. There is a new 160-page book of Perfumery secrets free for the students of the class that includes abstracts on all your favorite perfumer ingredients. Natural Botanical Perfumery and Blending Classes

---

"The act of distillation is the process or art
whereby the invisible is made visible"
…Jeanne Rose 2001

---

2014 Schedule of Class, Seminars and Events

FEBRUARY 28 - MARCH 1-2, 2014
AROMATHERAPY BLENDING:
Blending Essential Oils for Health . Certification Level I
…for the Professional or Practitioner,
San Francisco, CA
$525.00

A complete course, you will make up to 8-10 separate blends. [Specifically for Beginners, Massage Therapists and SPA Technicians] This workshop is to be a Seminar for Blending Essential Oils (EOs) for therapeutic purposes and for perfumery. The workshop is an important step to any one interested in blending essential oils for therapeutic healing either emotional or physical; for perfumery or for making your own products. It will help give inspiration and give direction for those deciding where to go with their aromatherapy studies. The workshop is designed to combine the academic and scientific with the magically subjective aspects of aromatherapy. Overall, it will show that there is art, craft and science to blending Essential oils.

Class starts at 6:30 pm on Friday and ends 4 pm on Sunday.

---

---

Basic — Advance
8 DAYS FOR 8 STUDENTS
Part I and Part II

MARCH 20-23 - PERFUME I
APRIL 3-6, 2014 - PERFUME II
BOTANICAL PERFUMERY CLASS
Everyday 9:30AM - 4PM
San Francisco, CA
$1,099.00 Part I


Take one or bot

h...Botanical Perfumery.

This is a full course, encompassing the 4-part series of Part I is Blending, Perfumery, Bases, Part II is Accords, Tinctures, Carriers, and Alcohol. In all it includes 4-natural perfumery courses, 2 course booklets, 2 textbooks, scent blotters and the Basic 7 Vocabulary of Odor© including all goods and tangibles. This includes free time to peruse the hundreds of absolutes, essential oils, and CO2 and antique and library odors for analysis

.
Can be paid by check or credit card in full.

$2,150 with cash or check; $2,198 using Credit Card.
Phone 415-564-6785
Call to enroll.
$2,198.00


---

---

APRIL 25-27, 2014,
SPA SEMINAR—
HERBS & AROMATHERAPY, SKIN CARE Aromatherapy Level 1 Certification
San Francisco, CA
$480.00


This class will teach you how to take care of yourself through the use of herbs, water, clay, mud, and salts and essential oils. For beautiful skin, 20 Essential oils will be discussed. This class is open to all persons and the Professional product maker as well. $480 includes $175 worth of natural products to be given to students plus the Free $25 book.

In San Francisco at the 'House of 1000 Aromatic Wonders',
219 Carl St, San Francisco, CA 94117.

---

JUNE 6-8, 2014


Botany/Business/Beauty —Aromatherapy


CERTIFICATION II
San Francisco, CA

Certification Level I with a fascinating Botany ID Day at Botanical Gardens, VIP Class for Chemistry and Business and Ethics in San Francisco.

- Chemistry for the Chemically impaired.
- Why chemistry is important in Aromatherapy.
- Specific Treatments for Specific Ailments.
- Aromatherapy Business and Ethics.

THIS class is necessary to qualify you for Practitioner Liability Insurance. Includes the Certification booklet.. (Enrollment limited to 10)

---

---

JUNE 14, OR JUNE 21, 2014
Distillation of Plants – Aromatherapy, Alchemy and
the Art of Distillation June 2014.
Distillation Class (5 students per class)
San Francisco, CA
11 am to 4 p.m.
$205.00


Distillation of Aromatic Plants/Demonstration

This class will be held in San Francisco California. Learn how to distill with a 20-liter copper still and what to do with your products from Jeanne Rose.

Expertise in all aspects of production of essential oils and hydrosols: Distillation with the alembic pot still; • Learn what to do with your distillates, hydrosols and essential oils. 415-564-6785. Books and Aromatherapy Kits and Home-Study classes will be available for sale.

This hands-on class and Demonstration is $205/person PIF payable in full in advance. Jeanne Rose will conduct the distillation.

Only the serious need apply — Please come

---

Send to Jeanne Rose Seminars — Blending, Natural Perfumery & Aromatherapy Certification Classes. 219 Carl St, San Francisco, CA 94117 aromaticplant@yahoo.com 415-564-6785
Or Sign up online: http://www.jeannerose.net/calendar.html

---

Contact:
Jeanne Rose, San Francisco, CA 94117
PH 415-564-6785

http://www.JeanneRose.net
http://www.aromaticplantproject.com
http://health.groups.yahoo.com/group/jeannerosenews/

---

Refund Policy: Refunds are given (less a $150 process fee per class)
up to 3 weeks before the class. Then on an individual basis only if the spot can be filled; OR you may take a comparable course with us anywhere up to a year later.
---
Ms. Rose is personally available for both individual and business consultations on many subjects pertaining to Herbs and Aromatherapy. This includes the growing, distillation and use of true essential oil plants and the production of hydrosols and essential oils as well as information on distillation equipment, distillers, and plant education. Help choosing the correct plants for growing sites, proper chemotypes, research on distillation needs and aromatherapy for health and personal needs are also available.
For more information, please visit the Aromatherapy and
Herbal ; Consultation and Formulation page.
Please return to this page for the most current scheduling information.
Call each sponsor for detailed information and changes.
All dates are approximate and depend on weather and growing conditions.
Dates will be confirmed at least 30 days in advance.
---

More Info:
For classes conducted at Jeanne Rose's home the Carl Hotel is the closest (1/2 block)
Carl Hotel, 198 Carl St., San Francisco, 94117, (415) 661-5679

---
© 1999, 2000, 2001, 2002, 2003, 2004, 2005, 2006 Jeanne Rose, All Rights Reserved. Web Design by PS Design ~ Updated 12/19/06