Rosemary Chemotypes




In 375 Essential Oils & Hydrosols on page 4, a chemotype is described as an essential oil where the chemical composition of the oil has one or more chemicals that dominate over the norm — this is usually dependant on terroir. As an example, Rosemary can grow in various areas from the very hot to the less hot. The hotter the area the more that the Rosemary will reflect the heat by producing more camphor. If the area is higher in altitude, the Basil may produce Linalool. There are also chemotypes CT borneol, CT Cineol, CT verbenone, and CT linalool. Light intensity and higher temperature encourages camphor.

Classifying by chemotype more prevalent now than it was 15 years ago. Another way to say it is that chemotype refers to the subspecies that have the same morphological (body shape) characteristics, but which produce different quantities of the chemical constituents in the resultant essential oil. These attributes are something that we teach in our aromatherapy seminars that are given throughout the year in various locations around the United States.

Rosmarinus officinalis CT cineole and
Rosmarinus officinalis CV prostratus

The phenomenon that there is chemical difference in identical (morphologically) species is especially prevalent in the Lamiaceae family [Basil, Thyme, Lavender, Rosemary]. In Thyme CT or chemotypes are thymol, carvacrol, linalool, geraniol, -terpenyl acetate, and thujanol-4. Each has a different use. The environment is all-important.
In the Rosemary species (Rosmarinus officinalis), we will discuss the following CT chemotypes: camphor; borneol (which can oxidize to camphor); 1,8-cineole (most common); verbenone; and
-Pinene. Yes, it is true, that often all these chemicals can exist in Rosemary – but when one of them predominates, it is called a (CT) chemotype. Temperature and environment is also important. Often the cineole chemotype predominates before flowering and then the camphor afterwards. Cool sea airs seem to favor the verbenone type. Hot air favors camphor.
When you purchase essential oils it is very important that you know your chemotypes. Our company will inform you with the information that comes in the kits that you purchase.. If you want a healing cineole type and you get a camphor type you are being guided incorrectly. Learning the scent via your Basic 7 Vocabulary of Odor© and the organoleptic qualities of essential oils is very important.
Naming: Use the Latin binomial, then the variety, then the chemotype, then the part of the plant.
Compound Rosemary
Rosmarinus officinalis

Country of Origin

California
France
Spain
Tunisia
Croatia

pyramidalis type
& β-Pinene
?
20%
22%
23%
Borneol
?
6%
3%
3%
Camphor
?
13%
24%
15%
√
1,8-cineole
?
25%
19%
32%
Verbenone
3-4%
1.5%
0.5%
0.4%s
Limonene
?
8%
4%
4%

| | | |
| --- | --- | --- |
| | | Limonene |

Applications and Uses of Various Rosemary Chemotypes

Rosmarinus pyramidalis
& β-Pinene
Respiratory applications, specific for ear and sinus problems. For earache, inhalations and any lung congestion. From France.
Rosemary CT 1,8-cineole
For lung congestion, cystitis and chronic fatigue. For massage and external healing. From Morocco/US/France.
Rosemary CT borneol
Helps overcome fatigue and infections, and is a heart tonic. From France
Rosemary CT camphor
A vein decongestant, mucolytic, cardiac tonic and diuretic. For external application for acne or skin care. From Croatia or Spain
Rosemary CT limonene
Limonene has anti- cancer effects. Limonene increases the levels of liver enzymes involved in detoxifying carcinogens. From France
Rosemary CT verbenone
(2 types, one from France and one from United States)—The scent is herbaceous, fruity, and green. Mucolytic, sinus infections, antispasmodic, and helps balance the endocrine and nervous systems. For oily or regenerative skin care, but contains some say, potentially hazardous ketones.

Verbenone CO2-6 is extracted in Spain and is used in skin care or for great Rosemary Garlic bread.


Verbenone
(4,6,6-trimethyl-bicyclo (3.1.1)
hept-3-en-2-one)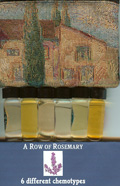 The "Row of Rosemary" training kit
has 6 different chemotypes and is $45.00
________________________________________________
Effect of Sample Preparation on the Amounts of α-Pinene and Verbenone Extracted from Rosemary
By Katie A. McCormick, Jamie S. Olivarez, Roy A. Fisher, Tal M. Nahir and Cindy L. Phelps
Abstract: Volatile compounds were obtained from fresh leaves of rosemary by accelerated solvent extraction (ASE), supercritical fluid extraction (SFE) and steam distillation. It was found that the ratio of α-pinene to verbenone depended on the method of preparation of plant material, and that the yield of verbenone was largest from ground leaves, while the amount of α-pinene was greatest in whole leaves. The transformation of α-pinene to verbenone is thought to be the cause for the differences in the relative amounts of these two major components.
# # #
All rights reserved 2007. No part of this article may
be used without prior permission from Jeanne Rose.
© Authors Copyright Jeanne Rose,
info@jeannerose.net