A GARDEN OF HERBAL DELIGHTS
by Mia Amato

(Article printed in the Image, Sunday, August 8, 1993, photo by Darryl Bush)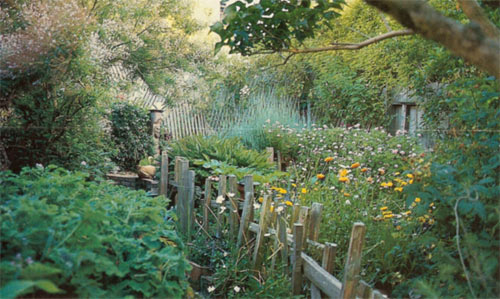 From above, the sound of windchimes silvers the air; below, the golden breath of the garden rises warmly, heavy with the scent of herbs. White and blue flowers shimmer in the summer heat, as viewed from the top of a kitchen deck; a ropy wisteria and mural-painted walls grace the shaded seating area underneath the deck, a cool place to contemplate Jeanne Rose's garden.
Jeanne, who pronounces both the "e" in her name and the "h" in herb, is a degreed ethnobotantist and practicing herbalist. "The difference is an ethnobotanist studies how other people use herbs, an herbalist actually uses them," says Rose. This is her working garden, full of plants from which she distills essential oils.
The garden was designed by Cole Valley neighbor Chris Jacobsen, a landscape architect. He proposed the paths of stone and brick and built the rustic low fence of hand-split cedar that surrounds the flower beds. Both were necessary to keep Rose's two large dogs out of the growing areas. The herbs are grown massed, for ease of harvest and for visual effect. There's a circle of lavenders, waist-high hedges of scented geraniums and two areas for old-fashioned scented roses. A real show-stopper is a true lemon verbena in tree form, thick-trunked and 25 feet tall, dripping white blossoms and willowy, lemon-scented leaves.
"I started it from a small plant in a pot years ago, and thought I killed it when the leaves all fell off," says Rose. "I didn't know lemon verbena was deciduous." What she's learned since -- for example, that lemon verbena thrives best when planted in the ground -- is in her 11 books about herbs.
Every flower in her garden has a story and a use. Coneflower "draws out toxins" and can be used on a rash. Toothed leaves of mugwort reveals dreams of the future," says Rose. "So I dry it to stuff into dream pillow, mixing it with dried lemon verbena."
Rose grows about a half-dozen types of lavender and each has a different smell. Lavendula angustifolia, the English lavender, has a soft, sweet fragrance; Lavandula intermedia is pungent, the type grown most often in France for the fragrance industry. Only real essential oils are therapeutic, says Rose. Most herbal products sold in this country use artificial essences, despite labels that say "natural." "You have to read the label," she says. "It should say oil. If it says herb fragrance, it's probably not real."
Rose extracts the volatile oils of her lavender flowers by water distillation. Her entire backyard harvest may produce only a quarter-ounce of lavender oil, enough to yield several gallons of lavender water.
With the help of books like hers, "people can learn to make herbal products fro themselves," she says. If distilling essential oils at home seems laborious, a garden full of scented herbs can be just as therapeutic.
"The word for it is oliatory," she explains. "A place to sit and smell."
# # #
AUTHOR:
University of California Master Gardener Mia Amato's columns also appear in The Examiner's Habitat and Real Estate sections.
All rights reserved 2003, 2004, 2005, 2006. No part of this article may
be used without prior permission from Jeanne Rose.
© Authors Copyright Jeanne Rose,
info@jeannerose.net